eBranch2Go
Download eBooks and audiobooks quickly and easily for all your devices!
Power Library
An online portal for many databases and other resources for all ages!
Chat with a Librarian
Chat directly with a librarian. Experienced librarians are on hand to assist. They may be able to answer your question then and there, email information later, or suggest resources to explore.
Learning Express
Study and Practice Tests.
Power Library Kids!
An online portal of databases for kids! 
BookFLIX
Watch videos and read books!
A free service from the Galeton Public Library. Whatever your learning goal, Learning Express Library's resources will help you succeed.
Improve your basic math, reading and writing skills fast online
Math, reading, and writing tutorials
Learn about in-demand careers
Prepare for occupational exams
ACT®, SAT*, AP* test preparation
Prepare for the GED® test …and much more!
Tutorials, practice tests, and eBooks. Visit the School Center to get started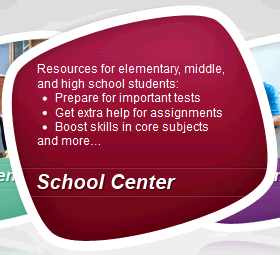 One Stop Shop for all your research needs – Save time everything in one spot.
Get answers to your questions with Chat with a Librarian
Find e-resources all in one place and login with an eCard
A not-for-profit with the goal of providing a free world-class education to anyone, anywhere. All of the site's resources are available to anyone, completely free of charge. Their library of over thousands of videos covers math, science topics such as biology, chemistry, and physics, and even reaches into the humanities with videos on finance, history and SAT preparation. Each video is a short digestible chunk, approximately 10 minutes long, and especially designed for viewing on the computer. All of the site's resources are available to anyone. It doesn't matter if you are a student, teacher, home-schooler, principal, adult returning to the classroom after 20 years, or a friendly alien just trying to get a leg up in earthly biology.
The Khan Academy's materials and resources are available completely free of charge.
Register for the SAT's.
Get connected to your college.
Find official college planning and preparation tools to help you succeed.
Visit the College Board website – your inside source. See Kahn Academy for video SAT preparation help free of charge.
Education Portal has launched some exciting new programs to help students learn more efficiently, earn their degrees on time and save money on their education. Take free online courses packed with fun & engaging video lessons.
How it Works: No registration or login needed. Watch fun & engaging lessons taught by world-class educators. When ready, pass an exam and earn real college credit (optional) that is accepted by 2,900 colleges. 
900 free online educational videos at Educational Portal : The collection of free online video resources cover 21 different course topics from English literature to calculus to macroeconomics . The 5-10 minute videos are taught by subject matter experts and designed to make even the most complex topics easy and accessible. 
Free online Algebra and Geometry video instruction on:
Pre-Algebra (Essential Math Skills) (Finding prime factorization, identifying fractions from a shaded region, finding smallest common denominators, converting decimals to fractions, converting fractions to decimals, adding and subtracting decimals, order of operations, finding least common multiples, and more)
Algebra 1 (Basic graphic skills, Solving one – step equations algebraically, Understanding Solving Equations, Finding x- and y- intercept,  Solving % word problems, Indirect variation, and more)
Algebra 2 (Find the solution of systems of linear equations by graphing, Find the solution of systems of linear equations using matrices, Introduction to Conic Sections, Identifying a parabola, Evaluating logarithms, Operations with logarithms, Solving equations involving absolute value, and more)
Geometry (Finding the distance between two points, Pythagorean Theorem, Line relationships – parallel, perpendicular, and skew,  Vertical and Alternate angles, Consecutive Angles, Applications of linear and angular relationships, Perimeter and Circumference, and more)
This is a commercial site that charges for online tutoring but the above link will take you to videos you can watch for no charge. You don't need to register to watch the free videos.  
A fun, reading program that you and your child can access from home! BookFlix is an online literacy resource that pairs classic video storybooks from Weston Woods with related nonfiction eBooks from Scholastic to build a love of reading and learning. This engaging resource for children in grades PreK to 3 will help early readers develop and practice essential reading skills and introduces students to a world of knowledge and exploration. Login with the code PL3250 and the 3 digits from your library card. BookFlix
Learn about people, places, nature, history, and science from videos and eBooks on topics such as American Indians, Ancient Civilizations, Farm to Table, The Civil War, Continents, The Thirteen Colonies, U.S. Government, Disasters, Earth Science, Experiments, Extreme Science, Nature, and many more.